English
Great idea for advertising are specially prepared stickers on the floor. You can use them in every shop, office, shopping mall but also during exhibitions, trade fairs and all kinds of events, also in public use. Stickers are made on appropriately selected to film substrate. In our offer there are stickers that can be placed on such a surface like tile (also rough), porcelain tiles and even paving, asphalt or flagstone. We are also preparing a sticker on a substrate in the form of PVC, aluminum, metal, or on the carpeting.

Anti-slip properties and exceptional durability
We care about the high quality of our products. All stickers are coated with this type of special non-slip laminate that is safe and approved. This is a special protective film, which is excellent protection against abrasion of the surface of the slides. It is extremely durable, from three months to a year. For durability stickers affected by exposure time, place, and many other external factors. They can be damaged by sharp heels or automatic floor cleaning.

Shapes floor stickers

We offer floor stickers in any shape, of all sizes and in every color. We provide our customers with a wide choice of options so that everyone can choose for themselves something suitable. As for the sticker greater than 180cm, usually they are properly divided into several parts, which greatly facilitates gluing. We provide floor stickers of a water-proof.

Prices stickers

Price labels contemplates various parameters and depends on the size, quantity and the substrate to which it is to be found.
Important!
The cost takes into account the non-slip surface stickers sticker.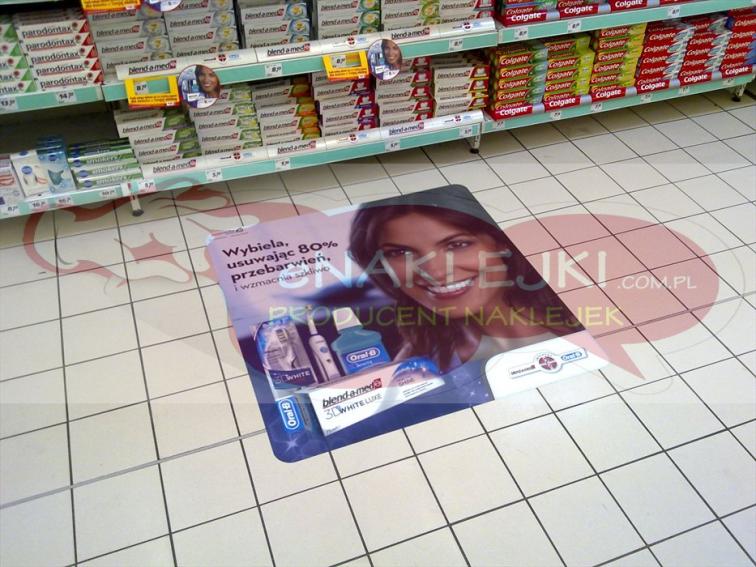 The perfect sticker for lining

We provide high quality stickers on the liner characterized by a strong adhesive strength and high ductility of the film. In this way, stickers perfectly adhere to the substrate and provide comfort. On the outside we use a special laminate that protects against damage and external factors. We offer our customers a sticker on carpets in a variety of shapes and sizes and in any color version. We also provide service sticking stickers in any place.


Durable stickers on sidewalks,paved surfaces and roadways

Stickers in this category are characterized by an aesthetic form and excellent quality, ideally suited to the tasks of advertising. We do it with a special material that fits right into the ground. We provide non-slip stickers cover. Our customers can choose for themselves the stickers in any shape and good size.

Very important is the technique of sticking the labels on this type of surface. To stickers enclose user on request "service"
BACK TO ALL KIND OF STICKERS